| Classes we have had over the past 17 years, 18 Schools | Tutors we have embraced, many thanks for all those years |
| --- | --- |
| Scottish Fiddle- Master-class Advanced and an Intermediate | Chris Duncan (17 years) & Emma Nixon with past assistants, Matthew Robertson, Lachlan Green |
| Irish Fiddle - Intermediate to Advanced | Ken Maher (for the first 9 years) with Khalida de Ridder, Ado Barker with Leueen Morgan, Luke Plumb with Pria Schwall-Kearney, Bridget Hickey, Dave O'Neill |
| Extreme Irish Fiddle - master class | Liz Doherty from Ireland |
| Irish Fiddle - Novice | Sean Kenan |
| Canadian Fiddle - Intermediate to Advanced | Pria Schwall-Kearney, Sarah Davies |
| Australian Fiddle - Intermediate to Advanced | Jane Brownlee |
| Scottish Piano - Intermediate to Advanced | Catherine Strutt |
| Celtic Guitar - Intermediate to Advanced | Dave O'Neill, Kate Burke, Jeremy Dunlop |
| Celtic Techniques | Mike Watts, John Bushby, |
| Irish Pipes- Novice to Intermediate | John Deery, Patrick Lyons, with guest Brian Howard from Sheffield UK for two years |
| English Concertina - Intermediate | Mike Watts with help from Sarah Wade for a few days and Jayne Nankivell teaching a tune this year. |
| Tin Whistle - Intermediate | Patrick Lyons, Nicola Fortune, Kathy Hickey, Andy Rigby |
| Irish Flute - Intermediate to Advanced | Brian Owens, Ben Stephenson |
| Traditional Singing - Intermediate to Advanced | Heidi Bradburn, John Thompson and Nicole Murray (Cloudstreet), Jane Thompson and James Rigby (the Rainmakers) |
| Gaelic Singing - Intermediate to Advanced | Ronald McCoy |
| Folk Harp - Intermediate | David Alleway |
| Celtic Mandolin - Intermediate to Advanced | Luke Plumb, Dave O'Neill with James Rigby |
| Folk Ensemble | Lachlan Green, Ruth Wise |
| | |
| --- | --- |
| Electives 4.30 -5.30 - free for all who attend the School | |
| Slow Jam - every evening before main session at night | Various tutors and students and many others leading the session for 16 of the 18 Schools. Thanks to Lachlan Green, Ruth Wise, Dylan Reilly-Hines, Bridget Hickey, Alexa Shepherd, Naomi Rowland, David from UK, Sean Kenan, Ken Maher, Matthew Robertson, Emma Nixon, Dave O'Neill, Jem Dunlop and all those who just jumped up out of the crowd to lead a tune. |
| Clog dancing | Jo Cresswell |
| Rhythm Monster, Quebecois tunes, learning by ear, Yoga, Understanding Gaelic song names | Chris Duncan, Pria Schwall-Kearney, Ruth Wise, Tony Stuart, Patrick Lyons |
| Swimming in the pool - after classes and on Wed. afternoon | |
| Morning Walk with Lynda Purcell every morning 7.30 - 8am | Lynda Purcell at Campaspe and in Tasmania, but also Todd Dudley's informative nature walk around the base of the mountains, plus John McPhee took intrepid walkers to the top of the mountain on Wednesday afternoons. |
| Dancing - Scottish and Ceilidh, with a chance for some musicians to play for the real thing and a chance for the rest to get fit and to let off steam after a day of solid concentration in class. | Thanks to Matt Robertson, Kay Callan, John McPhee, Cathy Hutchinson and Caroline Barrell for some great dances in previous years. |
| | |
| --- | --- |
| Thanks to all our many many willing helpers over the 17 years. Couldn't have survived as well without you. | And thanks to all of you who came to the School, especially those slow learners who came to it 16 times. |
The tutors for 2015 were Mike Watts - English Concertina, with Sarah Wade one year
Mike took students through the concertina intricacies including scales, tunes and chords, and repair and maintenance. Learn harmonies, rhythms, ornamentation.
Mike returned from a successful musical trip around England and Scotland, where he conducted an English Concertina workshop at the Bromyard Folk Festival.

His 2008 class saw our first UK student fly out for the class!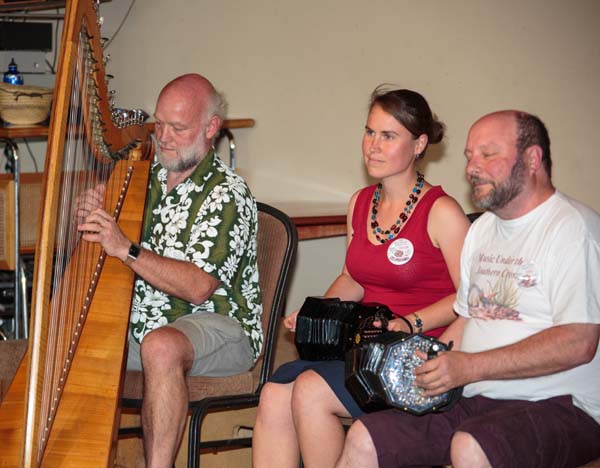 David, Sarah, Mike in the Tutors' Concert 2014

Chris Duncan and Emma Nixon - Scottish Fiddle Intermediate to Advanced Master Class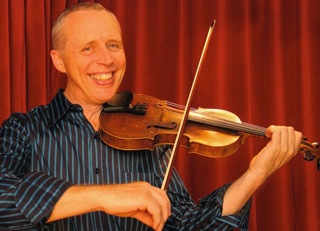 Chris Duncan is described as a "core revivalist" by Ruth Wise in her dissertation on the Australian Scottish fiddle scene. That's because he started playing Scottish fiddle music in 1975! In 2000 Chris was the winner of a World Music ARIA, and won the National Film and Sound Archive Best Folk Recording in 2007. Chris has a passion for raising the standard of Scottish fiddling in Australia.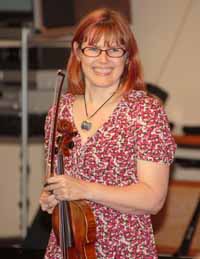 Emma Nixon was a student at Music Under the Southern Cross for several years, learning from Chris Duncan, and traveling around the world to many other traditional music summer schools. In 2008 she completed a Master of Music in Scottish fiddle performance and research at Newcastle University in UK. Emma was awarded Golden Fiddle Awards for Best Fiddle Teacher in 2010 and 2011. In 2012 she won Best Solo Fiddle CD for 'Chasing the Sunset' at the Golden Fiddle Awards. Emma is a highly qualified and respected violin/ fiddle teacher in Brisbane, where she also runs the Brisbane Celtic Fiddle Club.
Between them, Chris and Emma have nearly 60 years experience of Scottish fiddle and its music. Performing and teaching at schools, workshops, concerts, dances, ceilidhs, festivals, weddings and more, they have individually been recognised for their music with numerous awards.
All tunes were taught by ear. Rhythm, ornaments, harmonies and Scottish style added as the week progresses. After a combined morning session the class separated, with Chris and Emma tutoring different aspects of Scottish fiddle music. Music notation supplied at the end of the school.
Catherine Strutt - Scottish Piano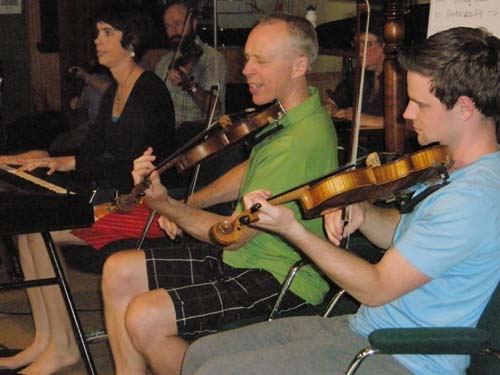 Catherine taught the nuances of playing for Scottish dance, for Scottish music in general, and included harmony, accompaniment, solo work and chord structures.
Catherine is considered to be one of the finest Scottish style piano players in Australia and is well respected as an innovative and sensitive accompanist.

She is a natural musician, her intuitive sense of rhythm and colour incomparable. We were honoured to have a Japanese student come to Catherine's class in 2014 as a result of Chris and Catherine's visit to Japan earlier.



Traditional Singing - James Rigby and Jane Thompson (aka The Rainmakers)
James and Jane did a fantastic job as our singing tutors, with songs long to be remembered and sung
James has been one of our mandolin tutors for several years, and most of the Rigby family have been associated with the School ever since it moved from Tasmania to Victoria.
Daughters Maggie and Elsie won the Lis Johnson Award for singing at the 2011 National Folk Festival and are now part of the amazing MAE Trio who were invited to perform at Celtic Connections in Glasgow this year.
Jane has recently released her solo CD to much acclaim. Jane and James also directed the Boite Millenium Chorus in September 2014.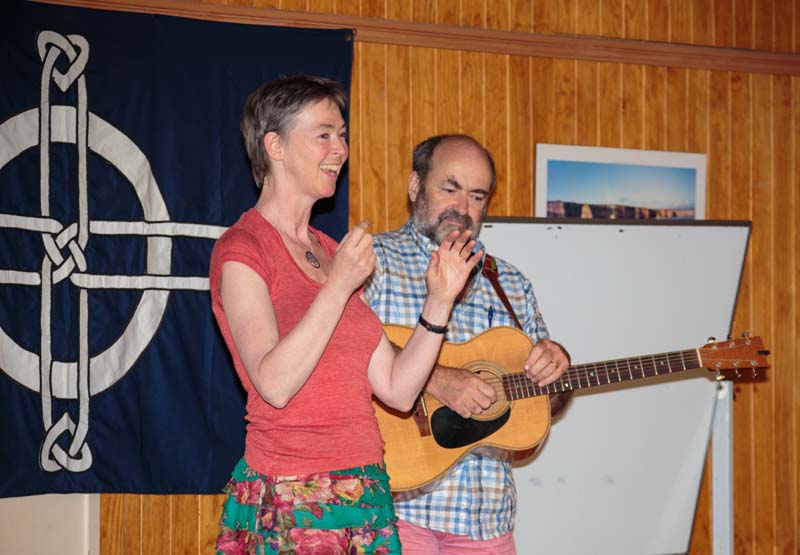 Traditional Singing

This class undertook
• physical and vocal warm-ups
• learn traditional songs and harmony parts
• vocal techniques
• chorus songs
• listening to celtic traditional singers
• improvising
• the singing session
Jane and James during the Tutors' Concert at 2014 School, thanks Phil Green for the photo

Links to things from 2010 School (thank you John and Nicole):
Celtic Guitar - Jeremy Dunlop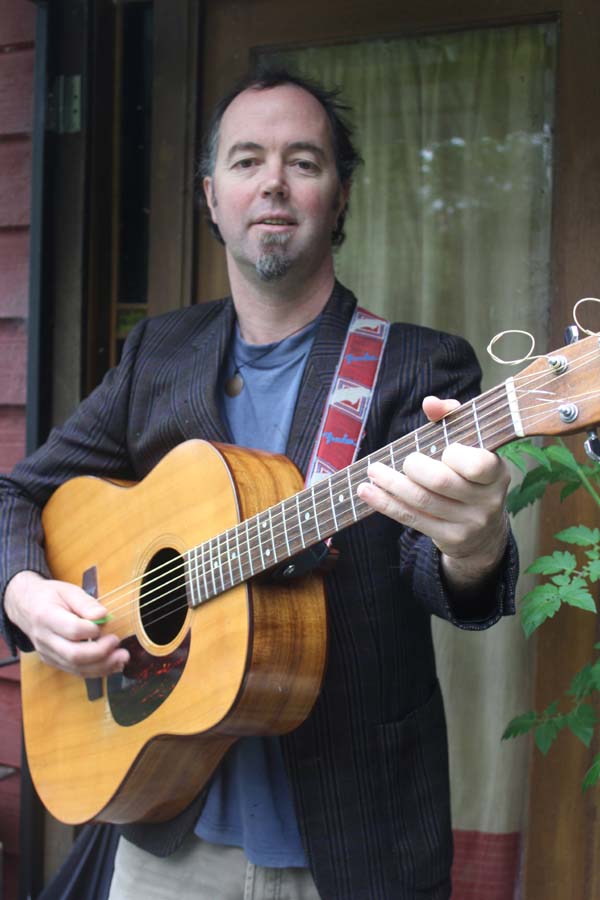 A Victorian expat, Jem has been a Maleny lad for five years now, and a favoured tutor at the Maleny Celtic Winter School. When not working as a bush regenerator, he can be seen playing guitar with the likes of the Simon Bradley Trio, Luke Plumb and Laura Targett or fiddling with Musica Viva band Fada or Melbourne based Bulabos. Jem is a qualified and experienced teacher;
We welcomed Jem back to the School for 2015.
He taught:
Flat picking jigs and reels.
Approaches to accompaniment in standard tuning on guitar.
Simple solo arrangements.
Chord inversions in standard tuning.
Right hand rhythms - strumming patterns.
Listening to the greats.
Dave O'Neill Intermediate Irish Fiddle tutor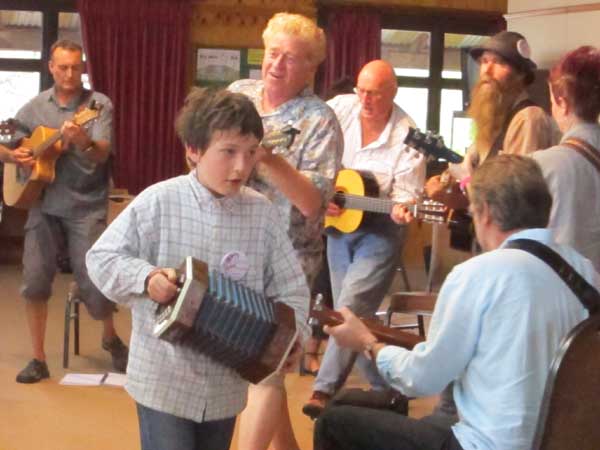 Dave spent some years in Ireland, and has a sound knowledge of the Irish music, plus is one of the finest tutors we've had at the School.
All tunes were taught by ear, so an ability to pick up tunes easily is essential. This assists players to join in the Irish sessions, where reading from music is not always appreciated. This was an Intermediate to Advanced class so you will be expected to be able to play tunes such as you would expect in an Irish session, or be competent on the fiddle with a good ability to learn by ear.
Dave is also fun to have as a tutor - the photo right is his guitar class at the final concert, with Paddy Beale leading the way out playing "Loch Lomond"


Luke Plumb - Intermediate to Advanced Celtic Mandolin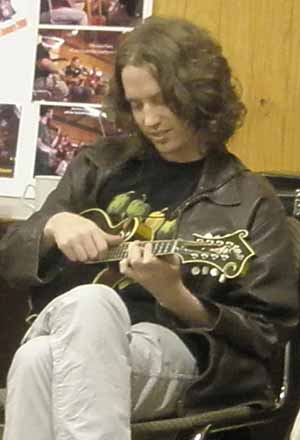 Luke is proudly Tasmanian and is a member of the Scottish band Shooglenifty and also the Funky String Band.

With 11 albums and numerous other guest appearances under his belt, Luke has cemented his standing in the world of mandolin players. But he is equally at home playing melody on the banjo or accompanying on the bouzouki and guitar. His skills as a session musician have seen Luke playing with musicians from many genres around the world!
A keen composer — his tunes make up most of the latest Shooglenifty album — he also worked on several classical string quartet pieces that premiered in 2006.
His solo debut "A Splendid Notion" was released on Shoogle Records in 2009, and he has several new recording projects in the works!
All tunes were taught by ear, so an ability to pick up tunes easily was essential. This assists players to join in the Irish sessions, where reading from music is not always appreciated.

This was an Intermediate to Advanced class so you will be expected to be able to play some tunes such as you would expect in an Irish session, or be relatively competent on the mandolin with a good ability to learn by ear.
Luke has a new website. www.lukeplumb.com

Pria Schwall-Kearney - Intermediate Canadian Fiddle - not able to make it to the School in 2015, Pria has been a major part of this School since it's early days in Tasmania, as a student then as a valued tutor. Sarah Davies also taught the Cape Breton section of the Canadian Fiddle class, and was at the very first school in 1999 as a Scottish fiddler, and has attended many since then.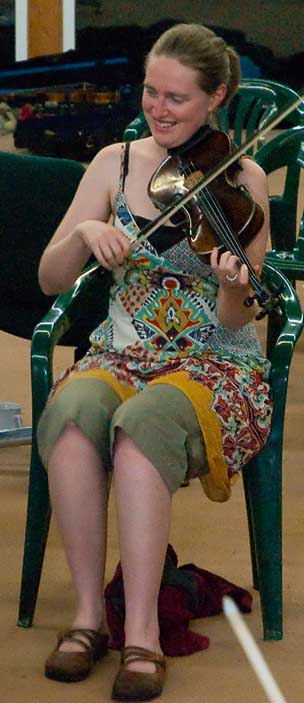 Pria Schwall-Kearney is one of Australia's most exciting young fiddle players, most known as a member of the Melbourne Scottish Fiddle Club, which she helps teach. Having returned from a year in Québec and Appalachia studying (and teaching) fiddle and banjo, she's come back freshly inspired with a heap of new ideas. Pria has played and taught fiddle and step dance at most festivals around Australia, and in the second half of 2009 toured Australia and New Zealand with the Old Time duo Pigeonwing Strings (www.myspace.com/pigeonwingstrings). To find out more you can go to www.myspace.com/priaschwallkearney
Pria has recorded teaching CDs, focusing on Québecois and Old Time music
We also wish to thank Sarah Davies for her great contribution of previous years of teaching in this Canadian fiddle class and wish her the very best with her growing family.

Patrick Lyons - Beginner to Intermediate Uilleann Pipes.
With assistance from Giles Bettison in 2015
Pat began on the Irish pipes in 1979, when he purchased the first flat set made by Geoff Wooff.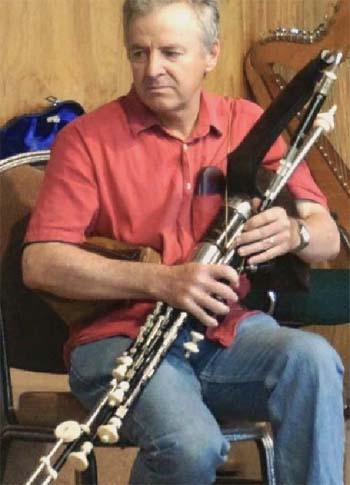 Growing up in an Irish family with music and dance as a given, it is only natural that he would have done something like that. Though largely self-taught (there was no other way), he picked up plenty of tips from pipers Declan Affley, Geoff Wooff, Ian Mackenzie, and Ronnie Wathen. And he learned a lot of music from other musicians, John Carty (fiddle, flute), Marcus Hernon (flute), Eilish O'Connor (fiddle), Máire Ní Chaoimh (fiddle), Páraic Mac Donncha (banjo), and John Hoban (singer), while they were resident in Australia. He can be a bit of a purist, which is no bad thing.
This class was for novice to intermediate players. More advanced students were competent in playing airs and dance tunes (size of repertoire not important), but they did not need to have the fine details. Attention was paid to improving tone, getting around the tricky bits, and understanding how pipering relates to other aspects of traditional Irish music, especially sean-nós singing.

Andy Rigby - Tin Whistle and Flute - Intermediate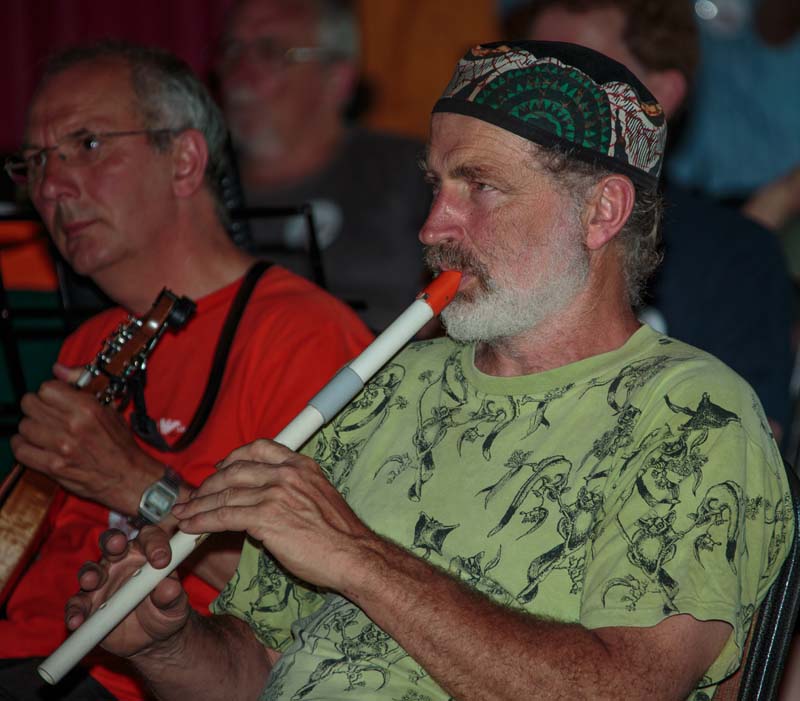 Andy started his musical career as a Celtic whistle player, and is now an iconic figure in the folk scene as a superb harpist, playing both Celtic and Paraguayan harp styles, as a harp maker of world renown, and as a flute and whistle player. He has made his mark around the country teaching the Kwela whistle style of South Africa, but will be concentrating on the Celtic Whistle for our School.
Andy has been a member of the bands "Moving Harps" and "Blackwood" and currently his musical partnership is with the wonderful singer Polly Christie. We welcome Andy to our School as a tutor, although he has been a regular visitor to the School from it's very first year in 1999 when he came to Tasmania and became part of the legendary session that continued until 5am on the final night.

This class was an Intermediate class so it is essential that they could play some jigs, reels and the occasional polka and slow air. Taught by ear, and given the ornaments and skills to make the tunes dance and sound really Irish. This class was truly fun, and we thank Kathy Hickey for her attention to detail, and patience over the previous years as tutor.

Many thanks to Phil Green for this photo of Andy playing in the Slow Jam 2014

David Alleway - Celtic Harp - Intermediate folk harp.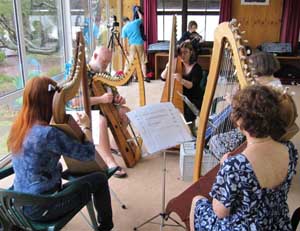 The Irish Harp, Scots Harp, Scottish Harp, Gaelic Harp or Clarsach has been at the core of traditional music for centuries.
David was a member of the well known trio Moving Harps and currently plays with the Melbourne Scottish Fiddle Club and performs an early years music show in schools around Victoria. David is well known for his enthusiastic approach to this instrument and his classes were structured to allow for players of different skill levels. This was a great opportunity for harpists to develop a closer relationship with Celtic and folk rhythms and ornamentation.
Plus it will be a great deal of fun. David is able to provide harps for several students if you do not have your own as yet.
Depending upon the level at which the participants are already playing the following areas will be covered.
Basic harp technique, tuning, finger pacement & posture
History of Celtic Harp in Celtic music
Playing melody lines, tune decoration in different styles
Accompanying other melody players: working out chords and how to play them in different styles
Tuning to play with bagpipes, Irish and Scottish and chordal accompaniment styles
Accompanying singers
Accompanying yourself singing
Arranging tunes from basic melody lines
Information for students
Check out the photos of some of the weird and wonderful HATS (2010) and HATS (2011) that appeared at dinner time each night. If any student has a photo I'd love to see them please.
The way the School worked
Registrations started at 2pm in the Conference Room at Campaspe Downs, and students were encouraged to arrive before 6pm when dinner starts.
We finished on the Friday, with a concert at 10.15, open to the public, then lunch at 12.30, and we farewelled MUSC around 1.30pm.
Classes ran from 9am - 4pm Mon, Tues and Thurs and from 9am - 12.30pm on Wednesday. The Wednesday afternoon was free for practice, swimming, walking, sightseeing whatever.
The classes were dedicated, meaning that students don't move between different classes during the week. The tutors planned the week to develop skills, once a tune has been learnt by ear. Emphasis was on playing by ear, where ornamentation, rhythm, lilt, harmonies etc are all added as the week progresses.
All classes are of an Intermediate to Advanced standard. Students are expected to be able to play their chosen instrument well enough to be able to capitalize on learning the ornamentation etc, rather than just learning to cope with their instrument. Students were encouraged to learn by ear to help them join in sessions more easily. Sheet music usually not given out until the end of the School, if at all.
Quite often an impromptu fiddle class or Gaelic language class or step dancing class may erupt, just to keep things on the move.

We had a slow jam session every evening before the main sessions, to allow players to pick up some of the more commonly played session tunes, and to reinforce tunes learned in past years at the School. Students who have gone on to become assistant tutors take the lead in these sessions. An Intermediate Scottish session preceded the regular Scottish session, after this.
The School was for the students, so "drop ins" are not encouraged, as the sessions are an integral part of the students' training within the School setting.
All ex-schoolies are always welcome however, they just let Beth know if they wished to visit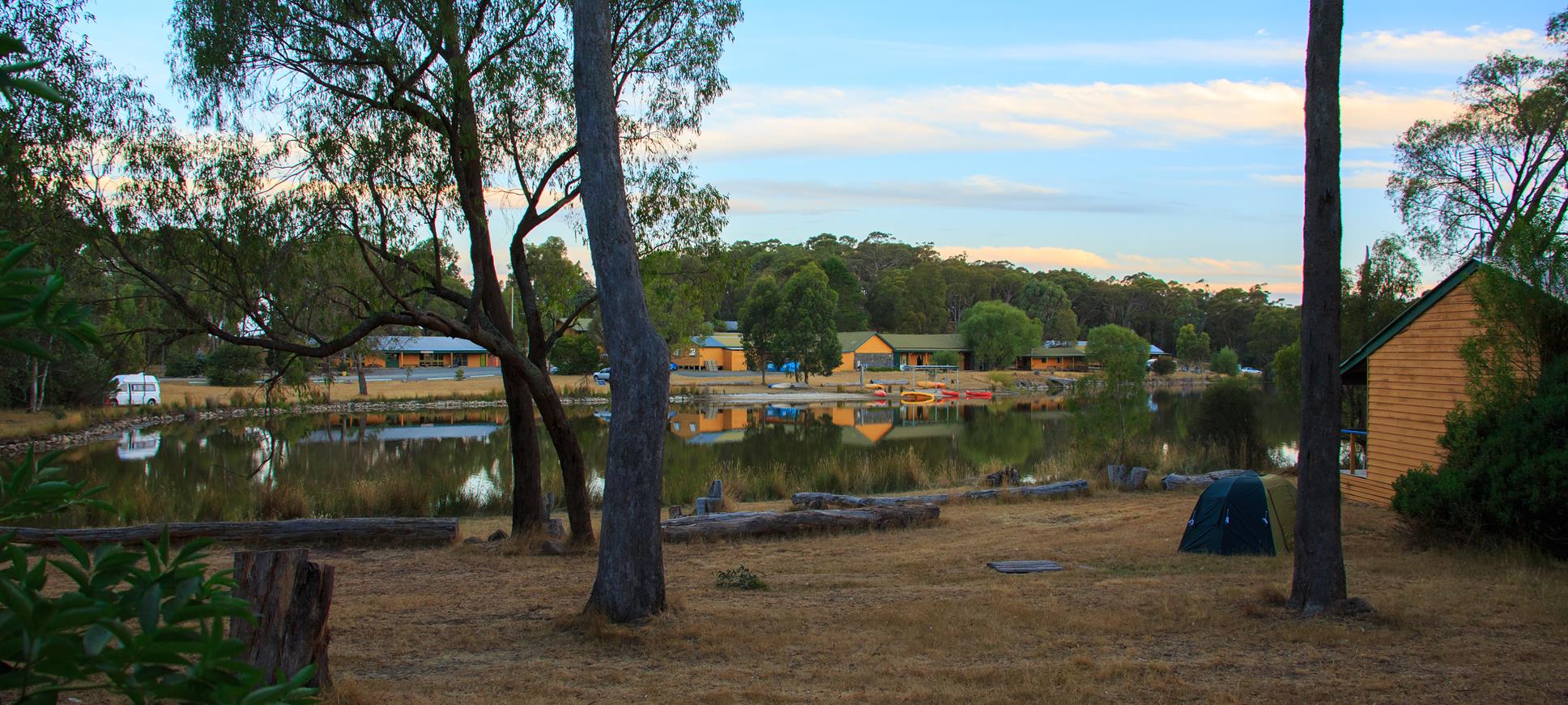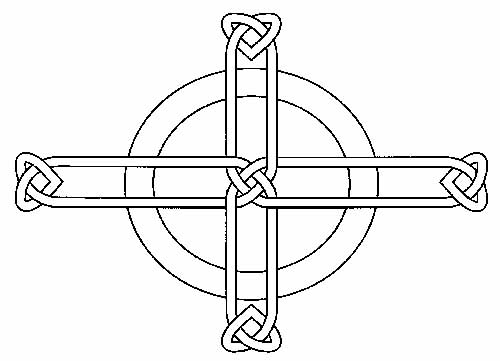 Scholarships were offered by the Folk Federation of Tasmania to a Tasmanian to attend the School.

A Scholarship was offered by the Melbourne Scottish Fiddle Club and thanks to the MSFC for such strong support over the years.
A Scholarship was offered by the National Folk Festival for a School student to attend a Master Class at the Easter Summer School in 2008 was awarded to Julie Edwards to continue her studies with Catherine Strutt on keyboards.
The National offered a venue for a concert of Schoolies in 2009 at the Merry Muse on Sat. 10am - 12noon. Phil and Susan Green co-ordinated this concert and IT WAS FANTASTIC, thank you one and all.
Newstead Folk Festival which followed right after the School in 2010 opened a 2.5 hour concert spot on Saturday evening for students and tutors from this year's School. Top talent on show included Luke Plumb, Cloudstreet, Dave O'Neill, David Alleway, Emma Nixon, The Threads (the Fooks with a change of guitarist), Duncan Chalmers, Pigeonwing Strings, Lachlan and Phil Green, plus massed singers and masses fiddles from the classes. It was superb, thank you Andrew for inviting us.
Mike and Beth would also like to thank all the wonderful photographers who over the years have supplied us with additional photos from the School. Catherine Strutt, Phil Green, Duncan Chalmers, Katy O'Leary, Sue O'Leary, Tim Barker, Geraldine Triffitt, Melinda Gilkes, Kalle Liberts, Elizabeth Viney, Brian Howard, Elke Frank, Maria Perez-Pulido, Mark Wallace and if there are any I've forgotten I apologise. I'm sure you'll let me know
Many thanks to Duncan Chalmers in 2008 for writing and singing the introductory song at the welcome dinner on the Sunday night. He'd made the mad dash from the Illawarra Folk Festival to be in time for the dinner, and welcomed our friends and tutors with THIS song

Since this time in 2008, Duncan has both welcomed us and farewelled us with song. This SONG was for the final School to welcome us all to Campaspe Downs in 2015, to the tune of Sally Gardens.

Duncan was also the judge for the T-shirt competition in 2008, won by Sarah Barker, with the people's choice won by Guy Dean. You can make your own decision as some of the T-shirts are on show HERE. I couldn't get photos of all of the shirts over the week, but there were some absolute crackers, and thanks to all of you for getting into the spirit of the game. Hats were again the theme for 2011 HATS (2010) and HATS (2011). Vests for 2012, Neckwear for 2013 and T-shirts for 2014. Memories for 2015.


Declan Affley Award
2010 String Contingent with Chris Stone and Holly Downes past students
2009 Khalida de Ridder from the Atherton Tablelands, assistant tutor 2006
2008 Ruth Wise - Margaret River, W.A (fabulous Wise Family member and now a tutor at the School)
2007 Tom de Ridder from the Atherton Tablelands
2000 Leueen Morgan - Tasmania, an assistant tutor at our School in 2007 and 2008
Chris Wendt Award
2010 Evelyn's Secret (formerly DRAM) - Bendigo
2008 Jack Wilson - Melbourne
2007 Khalida de Ridder - Atherton Tablelands
2000 Spootiskerry (Sarah Davies, Evan Davies, David Foster)
Lis Johnson Award (Singing)
2011 Maggie and Elsie Rigby - Victoria
Westbury St. Patrick's Day Celtic Competition Award
This was a major event in the Tasmanian Irish music calendar, and over the 10+ years of it's existence there have been five Summer School students (or tutor) take out the prestigious first place in the competition.
2008 Bridget Hickey - Tasmania (Damien Hingston was a very close second and he was our Novice Piping Tutor for 2009)
2007 Sirocha Bruckard - Tasmania
2006 Khalida de Ridder - Queensland, an assistant at our School in 2006
2000 Leueen Morgan - Tasmania, an assistant at our School in 2007 and 2008
1999 Kathy Hickey - whistle tutor at our School for quite a few years
Paddy O'Neill Award at Koroit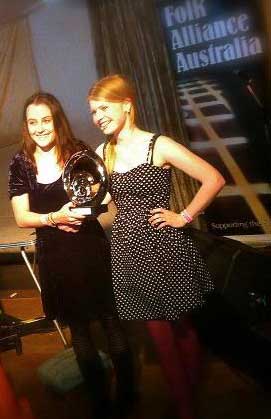 2008 DRAM- features 5 of our Schoolies, Brigid & Hilary Glaisher, Jenny McKecknie,
Anita Hillman and Corey Henderson
Maity Swallow Award 2009 at Koroit
Jenny McKecknie
Golden Fiddle Award at Tamworth for Best Fiddle Teacher 2010 and 2011
Emma Nixon (and best fiddle CD 2012)
Awards at Tamworth
2010 Melbourne Scottish Fiddle Club for their CD, plus our two tutors Matt Robertson and Pria Schwall-Kearney for their original tune
2011 String Contingent with Chris Stone and Holly Downes both past students at this School - best fiddle and CD
2012 Emma Nixon Best solo fiddle CD
2013 Melbourne Scottish Fiddle Club for best CD, plus best tune
Folk Alliance Award at the National Folk Festival 2012 and Tamworth Youth Award 2013
Rhiannon Fenn and Monique Bartkowiak (photo right)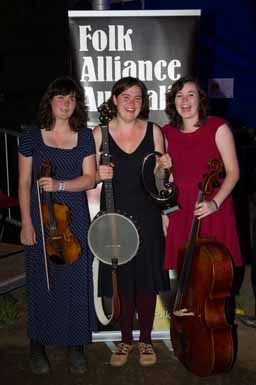 National Folk Festival FAA Award 2013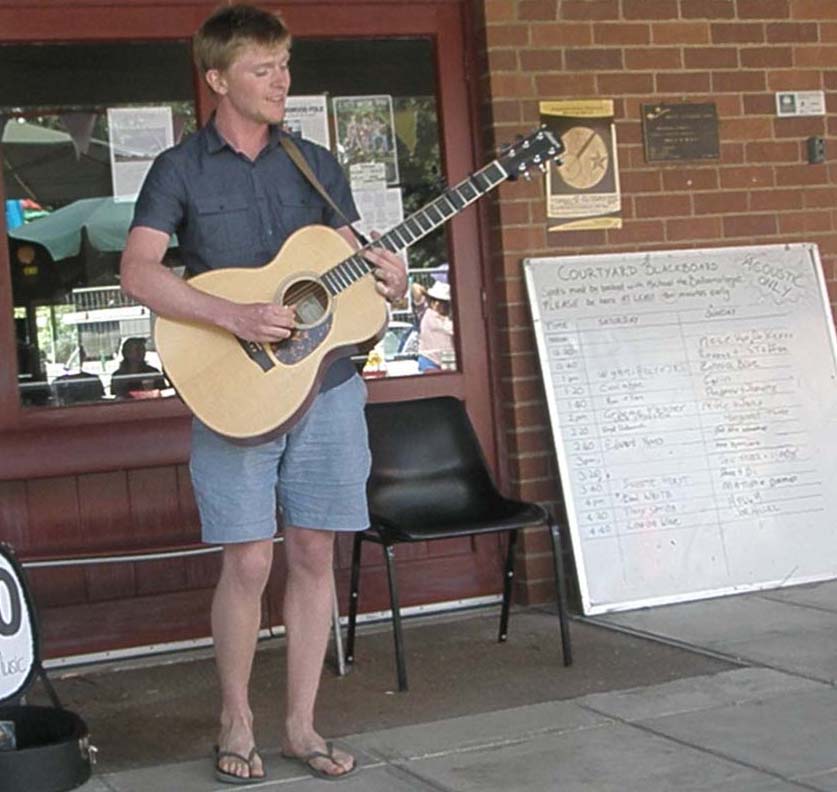 The MAE Trio (Maggie and Elsie Rigby and Anita Hillman)
(photo left courtesy Steve Coles)
National Folk Festival Lis Johnson Award 2015
Matthew Dames

Other happenings of special interest
Virginia Botha has written a suite of music that is being presented in Sydney and New York.
The MAE Trio and Tolka onstage at Celtic Connections and around Scotland in January 2014.
Tolka won a top Award at the National Folk Festival 2014
MAE Trio won the National Film and Archive Award for best CD for 2014

We are so proud of you all
Spotted at the 2012 National Folk Festival - how many schoolies are in this photo?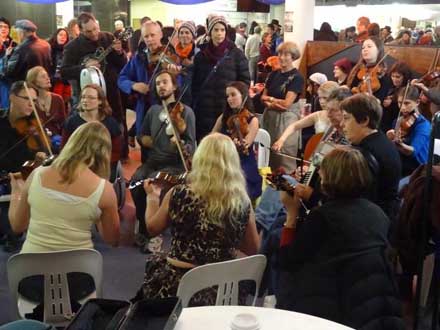 Some links of interest
A sad feeling to be finishing. We are so proud of the achievements of all who were a part of this amazing 17 years.
Contact details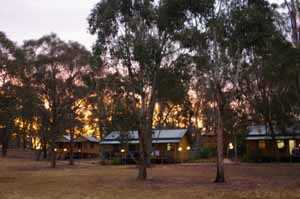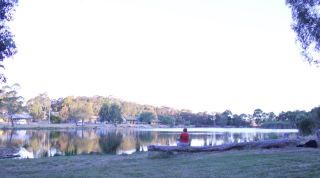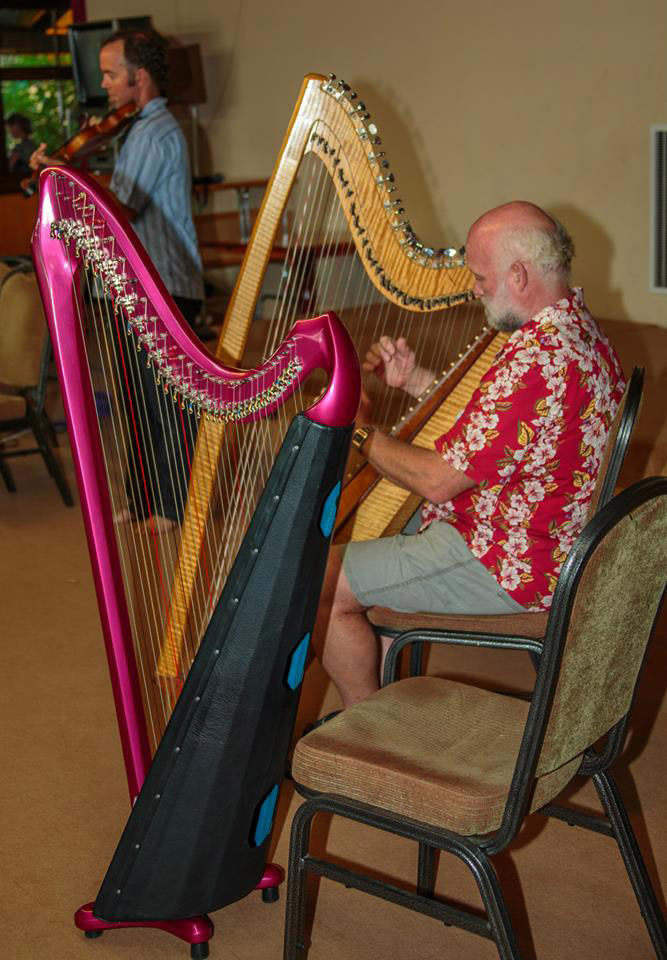 Beth Sowter or Mike Watts